Photo courtesy of Country Stoves & Sunrooms, East Aylesford, NS Canada
EXCELPrime – Premium single wall smoke pipe 
Features
Heavy wall, 24ga satincoat steel
Truly scratch resistant
Superior paint adhesion
Highly corrosion resistant inside and out
Laser welded seams
Perfectly round
No assembly required (no snap lock)
Fast, easy installation
Attractive design
Smooth exterior
No unsightly beads or bumps
Stove Bright, Flat Black paint
Highest paint quality
Matches more stoves than any other paint
Easy to touch up
100%, no questions asked 5 year replacement warranty
EXCELPrime is premium single wall smoke pipe for wood burning stoves.
No assembly required.
All lengths are laser welded out of heavy wall 24ga satincoat steel. EXCELPrime is available in 6", 7", and 8" diameters.
pREMIUM single wall SMOKE PIPE!
| | |
| --- | --- |
| | Perfectly round |
| | Heavy wall, 24ga satincoat steel |
| | Smooth exterior |
| | Highest paint quality |

EXAMPLES OF STANDARD EXCELPRIME INSTALLATIONS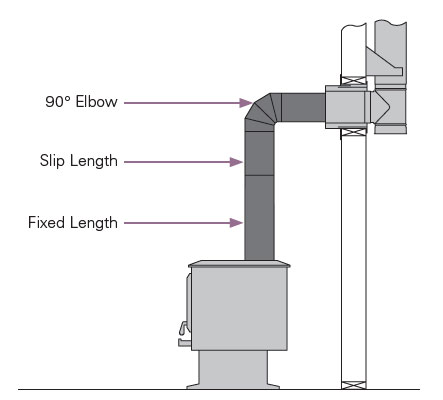 WARRANTY FOR EXCELPRIME SINGLE WALL PIPE
ICC warrants its EXCELPrime chimney systems to be free from functional failure due to defects in material or workmanship for a period of 5 years. This warranty provides for replacement of any components which fail as a result of normal use on a residential freestanding fireplace, wood burning stove, furnace or boiler. This warranty does not cover damage caused to the building by chimney fires or misuse of the product.
ICC will only be responsible for repair or replacement of any components found to be defective under this warranty. In no event shall ICC be responsible for any incidental or consequential damage caused by defects in the EXCELPrime chimney system.
To obtain service under this warranty, the defective component should be returned to the dealer from whom it was purchased. If you are unable to return the component to the original dealer contact ICC for the name of the closest dealer who can assist you. ICC will not be responsible for shipping charges related to warranty replacements. ICC will repair or replace any components which, upon examination by an authorized agent of ICC, prove to be defective.
ICC will not be responsible for labor of any kind required in the removal or replacement of an EXCELPrime system replaced under this warranty.
This connector is designed to vent residential heating oil, untreated wood, low sulphur coal, and natural or LP gas. It is designed to operate at a continuous temperature of 650°C (1200°F) or less. This warranty is void if the component is used in an application for which it is not designed.
This warranty may not be extended or modified by our agents or representatives. This warranty is in lieu of all other express warranties or guarantees, of any kind.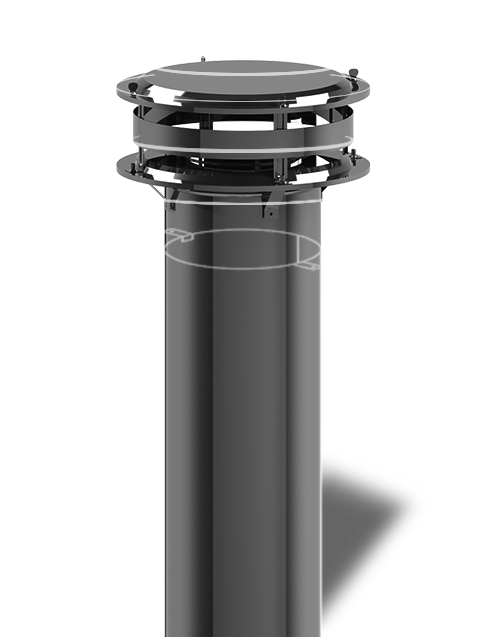 TRY THE EXCEL CHIMNEY CONFIGURATION TOOL
Need help choosing the right components to install your chimney?
If you're installing a wood stove, our chimney configuration tool will walk you through finding all the right parts for your job.